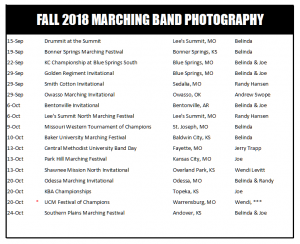 Great news! We will again offer full gallery downloads of high resolution, watermark-free images, shareable across your entire band. Unlock your galleries to share using the following order buttons:
$100: Unlocked, watermark-free, full gallery download
$50:  Add finals gallery for Prelims/Finals Events.
Prelims must be purchased to qualify for Finals at the reduced price.

Prints and special photo merchandise will continue to be available on all images displayed online for your convenience even if the gallery has been "unlocked" for digital download. Sales of prints and photo merchandise allow us to continue to provide photography services at no cost to the event itself! THANK YOU!
Questions? Email Belinda@prodsol.net
EVENT DATE/NAME
9/15/18 Drummit at the Summit
*special $50 pricing (drumline event only)

9/19/18 Bonner Springs Marching Festival
9/22/18 KC Championship at Blue Springs South (PRELIMS/DAY)
9/22/18 KC Championship at Blue Springs South (ADD FINALS/EVENING)
9/29/18 Owasso Marching Invitational (PRELIMS)
9/29/18 Owasso Marching Invitational (ADD FINALS)
9/29/18 Golden Regiment Invitational (PRELIMS)
9/29/18 Golden Regiment Invitational (ADD FINALS)
9/29/18 Smith-Cotton Invitational
10/6/18 Bentonville Marching Invitational (PRELIMS)
10/6/18 Bentonville Marching Invitational (ADD FINALS)
10/6/18 Lee's Summit North Marching Festival (FIELD ONLY)
10/9/18 Missouri Western Tournament of Champions
10/10/18 Baker University Marching Festival
10/13/18 Central Methodist University Band Day
10/13/18 Park Hill Marching Festival
10/13/18 Shawnee Mission North Invitational
10/20/18 UCM Festival of Champioons (PRELIMS)
10/20/18 UCM Festival of Champioons (ADD FINALS)
10/20/18 Odessa Marching Invitational
10/20/18 KBA Championships (PRELIMS)
10/20/18 KBA Championships (ADD FINALS)
10/24/18 Southern Plains Marching Festival